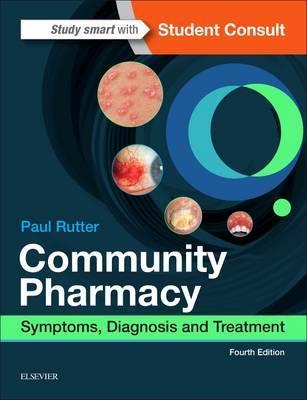 Paul Rutter
Now in its fourth edition, this best-selling book is fully updated to address the ever increasing demands on healthcare professionals to deliver high-quality patient care. A multitude of factors impinge on healthcare delivery today, including an ageing population, more sophisticated medicines, high patient expectation and changing health service infrastructure. Time demands on primary care doctors have caused other models of service delivery to be adopted across the world, leading to ongoing changes in the traditional boundaries of care between doctors, nurses, and pharmacists. Certain medical tasks are now being performed by nurses and pharmacists, for example prescribing. Healthcare policies to encourage patients to manage their own health have led to more medicines becoming available over the counter, allowing community pharmacists to manage and treat a wide range of conditions. Further deregulation of medicines to treat acute illness from different therapeutic areas seems likely. Government policy now encourages chronic disease management as a self-care activity, and could well be the largest area for future growth of reclassification of medicines. Pharmacists, now more than ever before, need to be able to recognise the signs and symptoms, and use an evidence-based approach to treatment.
Community Pharmacy is intended for all non-medical prescribers but especially for pharmacists, from undergraduate students to experienced practitioners.
Key features
Guidance for arriving at a differential diagnosis
Practical prescribing tips
Trigger points for referral boxes
Other hints and tips boxes
Specific questions to ask boxes
Case studies
Self-assessment questions
Consistent approach gives:
Anatomy overview
History taking and physical examination
Prevalence and epidemiology
Aetiology
Arriving at a differential diagnosis
Clinical features
Conditions to eliminate
Likely causes
Unlikely causes
Very unlikely causes
Evidence base for OTC medicine
Practical prescribing and product selection
More on the examination of eyes, ears and mouth
New sections on future-proofing (vaccinations etc.)
New material covering inter-professional education for clinical skills.
Now with a free accompanying e-book on StudentConsult which also gives additional material on:
evidence-based medicine
videos on physical examination
additional written case studies
more multiple-choice questions

Download