by Mosby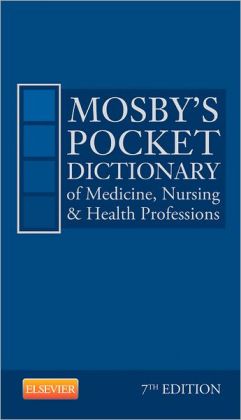 Mosby's Pocket Dictionary of Medicine, Nursing & Health, 7th Edition is your portable, quick-access reference to help you make sense of the complex world of health care. It features over 35,700 authoritative definitions (including approximately 300 all-new definitions) of diseases, procedures, equipment, drugs, and more, along with pronunciations, etymologies, and a Spanish/English appendix. If you want the most reliable health science information literally right at your fingertips, then look no further than this bestselling pocket dictionary.
• Emphasis on nursing and health science terminology support health science students and practicing professionals.
• Small size makes dictionary easy to transport.
• Over 35,700 definitions provides students and health professionals with necessary information.
• Alphabetized screened thumb tabs save you time finding terms.
• British spellings help users recognize alternate spellings.
• Included etymologies build professional vocabulary and understanding of medical terminology.
• Newly revised definitions make this a cohesive and portal reference.
• 300 new definitions added for the latest terms in health care, drugs and medical and nursing terminology.
Download