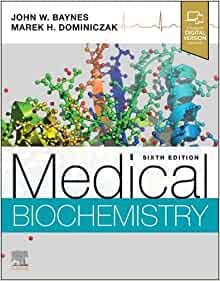 John W Baynes PhD
Written by carefully selected global experts, practicing physicians, and educators in the various sub-disciplines of biochemistry, Medical Biochemistry, 6th Edition, offers a unique combination of research and clinical practice tailored to today's integrated courses. Covering clinically relevant topics in greater detail than other texts, this outstanding resource provides a strong overview of traditional areas in medical biochemistry along with state-of-the-art coverage of today's latest developments. You'll learn basic science concepts alongside clinical cases that describe patients likely to be encountered in clinical training, as well as how to use laboratory tests to diagnose and monitor the most important conditions. Thorough yet accessible, this clinically focused text is useful from medical school to clinical practice. 
Features a strong clinical orientation, emphasizing the relevance of biochemistry to the daily practice of medicine.  

Highlights the latest developments in regulatory and molecular biology, signal transduction, age-related chronic disease, epigenetics, and bioinformatics and the "-omics," as well as important global medical issues such as diabetes mellitus, obesity and malnutrition, cancer and atherosclerotic cardiovascular disease, and nutrition and exercise. 

Emphasizes clinical evaluation, maintenance of good health, and disease prevention, as well as translational medicine and the diagnosis and treatment of disease. 

Contains organ-focused chapters addressing the biochemistry of the bone, kidney, liver, lungs and muscle; and system-focused chapters on the biochemistry of the immune and endocrine systems, neurochemistry and neurotransmission, and cancer. 

Includes clear, colorful icons and illustrations that help you easily navigate the text and understand the material. 

Provides online features such as challenging "Active Learning" questions for independent study, relevant websites that reinforce or supplement chapter content, 150+ multiple-choice and USMLE-style questions, a quick-reference glossary, additional images and case studies, references to current literature, and more. 

Enhanced eBook version included with purchase. Your enhanced eBook allows you to access all of the text, figures, and references from the book on a variety of devices. 
Download