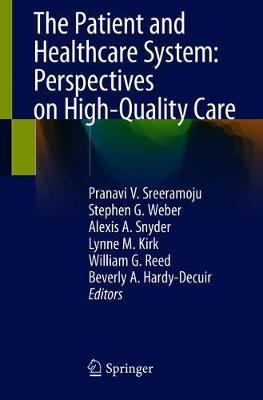 Pranavi V. Sreeramoju, Stephen G. Weber, Alexis A. Snyder, Lynne M. Kirk, William G. Reed, Beverly A. Hardy-Decuir
This book focuses on the interface between the patient and the healthcare system as the entryway to high-quality care and improved outcomes. Unlike other texts, this book puts the patient back in the center of care while integrating the various practices and challenges. Written by interdisciplinary experts, the book begins by evaluating the entire quality landscape before giving voice to all parties involved, including physicians, nurses, administrators, patients, and families. The text then focuses on how to develop a structure that meets needs of all of these groups, effectively addressing common threats to positive outcomes and patient satisfaction. The text tackles the most common challenges clinicians face in a hospital setting, including infection prevention, medication error and stewardship that may jeopardize recovery, complex care, and employee-patient engagement.
The Patient and Healthcare System: Perspectives on High-Quality Care is an excellent resource for physicians across broad specialties, nurses, hospital administrators, social workers, patient caregivers and all healthcare professionals concerned with infection prevention, quality and safety of care delivery, and patient satisfaction.

Download