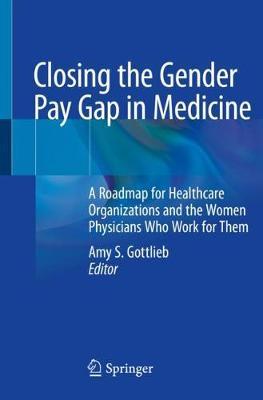 Amy S. FACP MD Gottlieb
Women now represent over half of medical school matriculants, almost half of residents and fellows, and over a third of practicing physicians nationally. Despite considerable representation among the physician workforce, women are paid 75 cents on the dollar compared with their male counterparts after accounting for specialty, geography, time in practice, and average hours per week worked. This pay gap is significantly greater than the one reported for US women workers as a whole and has shown little improvement over time. While much has been written about the problem, a robust discussion about how to rectify the situation has been missing from the conversation.
Closing the Gender Pay Gap in Medicine is the first comprehensive assessment of how cultural expectations and compensation methodologies in medicine work together to perpetuate salary disparities between men and women physicians. Since the gender gap reflects a convergence of forces within our healthcare enterprises, achieving pay equity can be an overwhelming undertaking for institutions and their leaders. However, compensation is foremost a business endeavor. Therefore, a roadmap for operationalizing equity within the finance, human resources, and compliance structures of our organizations is critical to eliminating disparities. The roadmap described in this book breaks down the component parts of compensation methodology to reveal their unintentional impact on salary equity and lays out processes and procedures that support new approaches to generate fair and equitable outcomes. Additionally, the roadmap is anchored in change management principles that address institutional culture and provide momentum toward salary equity.
The book begins with a review of the evidence on the gender pay gap in medicine. The following chapter discusses how gender-based differences in performance assessments, specialty choice, domestic responsibilities, negotiation, professional resources, sponsorship, and clinical productivity accumulate across women's careers in medicine and impact evaluation, promotion, and therefore compensation in the healthcare workplace. The next two chapters focus, respectively, on how compensation is determined – highlighting potential pitfalls for pay equity – and regulatory and legal considerations. Chapters 5 and 6 explore organizational infrastructure, salary data collection and analysis, and culture change strategies necessary to rectify compensation inequities. Chapter 7 offers a detailed account of one medical institution's successful journey to achieve salary equity. The book's final chapter emphasizes that closing the gender pay gap is at its essence a business endeavor and recommends that organizations assess progress and cost with the same attention, rigor, and regularity as afforded other operating expenses.
Closing the Gender Pay Gap in Medicine offers a detailed roadmap for healthcare organizations seeking to close the gender pay gap among their physician workforce. This first-of-its-kind book will assist institutions plan courses of action and identify potential pitfalls so they can be understood and mitigated. It will also prove a valuable resource for transformational leadership and systems-based change critical to attaining compensation equity.

Download