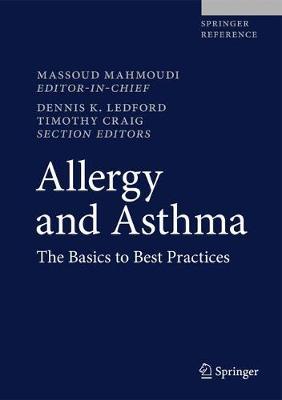 Massoud Mahmoudi, Dennis K. Ledford, Timothy Craig
Allergy and Asthma: The Basics to Best Practices is intended to serve as a single comprehensive reference covering all needed knowledge of allergic diseases. Allergy is a unique and distinctive area of medicine wherein learning the fundamentals requires gathering information from various different disciplines. Allergic diseases affect various organ systems and the practice of a wide range of physicians from otolaryngologists, and pulmonologists, to gastroenterologists, dermatologists, and ophthalmologists. Clinicians and trainees alike will benefit from a resource that introduces the basic concepts, as well as providing comprehensive, consistently up-to-date instruction on intermediate and advanced conditions, research, and treatment strategies.
The book is divided into nine sections and is written by some of the foremost experts in the field. Allergy and Asthma opens with an introduction which covers the epidemiology of allergic diseases, fundamentals of allergy and immunology, and a thorough grounding of different types of allergens. Early sections address allergic upper airway diseases, allergic skin diseases, and asthma in detail, using a structured, consistent format from chapter to chapter to provide continuity and ease of reference. Later sections thoroughly cover various food allergies, insect allergies, drug allergy, anaphylaxis, and utilize ample tables and illustrations to provide additional learning tools for the reader. This major reference not only provides basic knowledge on diagnosing and treating allergies, but moves beyond these basics to emphasize using a systematic approach to working up and treating a patient. A variety of techniques used in diagnosing asthma and allergy will be examined, of which include prick skin tests, in-vitro testing, patch testing and non-conventional allergy tests. Concluding this book are sections dedicated to management, therapeutic strategies of allergy and asthma, with a look to future research directions for this unique field.
Physicians and residents in allergy and immunology, pulmonology, otolaryngology, gastroenterology, dermatology, ophthalmology and other specialties will find the work of value in enhancing their practice and studies. Researchers in a range of areas especially immunology and food science will also find this text to be a compelling and reliable resource.

Download