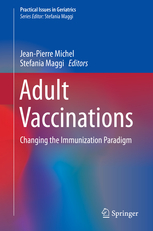 Jean-Pierre Michel, Stefania Maggi
After introductory chapters devoted to the safe production and distribution of vaccines, the book addresses the question of adult vaccination in the framework of a life-course approach to vaccination. It presents the proceedings of multidisciplinary expert discussions with an excellent summary of the current state of knowledge on adult vaccination in various diseases, as well as an overview of the professionals involved and the obstacles to achieving greater vaccine uptake, and how these may be addressed.
The book systematically discusses the major vaccine-preventable diseases, as well as regulatory issues in vaccine provision, and presents the results of an expert meeting designed to identify the obstacles to vaccination, and solutions for addressing these barriers. It goes on to extend the discussion beyond the traditional boundaries of human health to encompass the "one health" concept.
The book is intended for all those with an interest in vaccination, including physicians (from a wide range of disciplines including geriatrics/gerontology, infectious diseases, pediatrics, internal medicine, and other non-organ specialties), other healthcare professionals, pharmacists, representatives of the pharmaceutical industry and regulatory bodies (EMEA, national authorities), policymakers, the media and the general public.
Download