by Enrico Coiera, Farah Magrabi, Vitali Sintchenko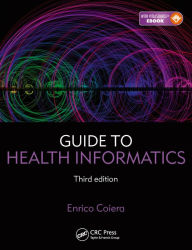 This essential text provides a readable yet sophisticated overview of the basic concepts of information technologies as they apply in healthcare. Spanning areas as diverse as the electronic medical record, searching, protocols, and communications as well as the Internet, Enrico Coiera has succeeded in making this vast and complex area accessible and understandable to the non-specialist, while providing everything that students of medical informatics need to know to accompany their course.
Key features:
Comprehensive – complete coverage of this growing area in a single, manageable volume
Relevant – updated and expanded to reflect current issues and the latest developments in the field, including the impact of social media, nation-scale health information systems, systems safety, augmented reality and surgical simulations, machine learning, and discovery systems
Accessible – student-friendly design with tables, boxes, and chapter summaries is ideal as a course companion while lively text ensures it is also suitable for the casual reader to dip into
Free online resources – including an extensive glossary, references linked to MedLine, MCQs for self testing, and discussion points for use in tutorials to stimulate debate
Fully revised, the third edition of Guide to Health Informatics remains essential reading for all health science undergraduates, clinical health professionals, and health service managers who need to appreciate and understand the role of informatics and its associated technologies for optimal practice and service delivery.
Download